Guest Speakers
General Meeting Information
Our monthly meeting begins at 7:00 PM on the third Monday of the month (except for the months of June, July, August and December) at the First United Methodist Church, 1551 Montgomery Drive, Santa Rosa.
The First United Methodist Church is on Montgomery Drive about one-half mile west of Montgomery Village between California Avenue and Talbot Avenue, and just two blocks east of Santa Rosa Memorial Hospital. Parking is available on Montgomery Drive.
As always, the public is invited to these free programs.
Currently scheduled upcoming guest speakers are listed here by date in ascending order (i.e., soonest first)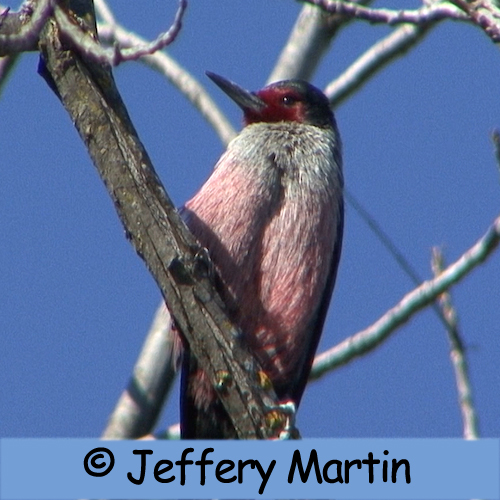 Woodpeckers of the North Bay
Location: First United Methodist Church, 1551 Montgomery Drive, Santa Rosa
Guest Speaker(s): Jeff Martin, Videographer, Naturalist, and Clinical Psychologist
Host: Madrone Audubon
Start Date: Monday, March 20, 2017
Start Time: 7:00 PM
End Time: 8:30 PM
Description: Woodpeckers have captured the human imagination for generations. The distant sounds of pecking, flashes of red plumage, and inevitable disappearance into the shadows of the forest evoke a sense of wonder about these extraordinary yet elusive creatures. Jeffery Martin's presentation will explore the foraging strategies of our eight North Bay woodpecker species. Insect excavation, acorn storage, the use of sap wells and other intriguing behaviors are our focus. Jeff's video segments illustrate unique evolutionary adaptations. We'll examine the anatomy of feet, tail, tongue and head which enable agile vertical climbing, adept grabbing of prey, and protection from concussion and dust inhalation. From the exquisite green and rose-colored Lewis's Woodpecker to the dazzling Northern Flicker, we'll take a close-up look at the worlds of our eight North Bay Woodpeckers. A Marin County videographer and naturalist, Jeff is also a clinical psychologist and associate clinical professor at UCSF School of Medicine.


---
New Items
It's Nesting Season: trim trees in Fall! Trim Trees in Fall.
Nestbox Monitors at Ocean Song Nestbox Monitor
---
Amazon Smile: donate 0.5% of your purchase to Madrone Amazon Smile
---
Revised Fiscal 2016 Financial Statements.
Birding Quiz - test your skills Birding Quiz.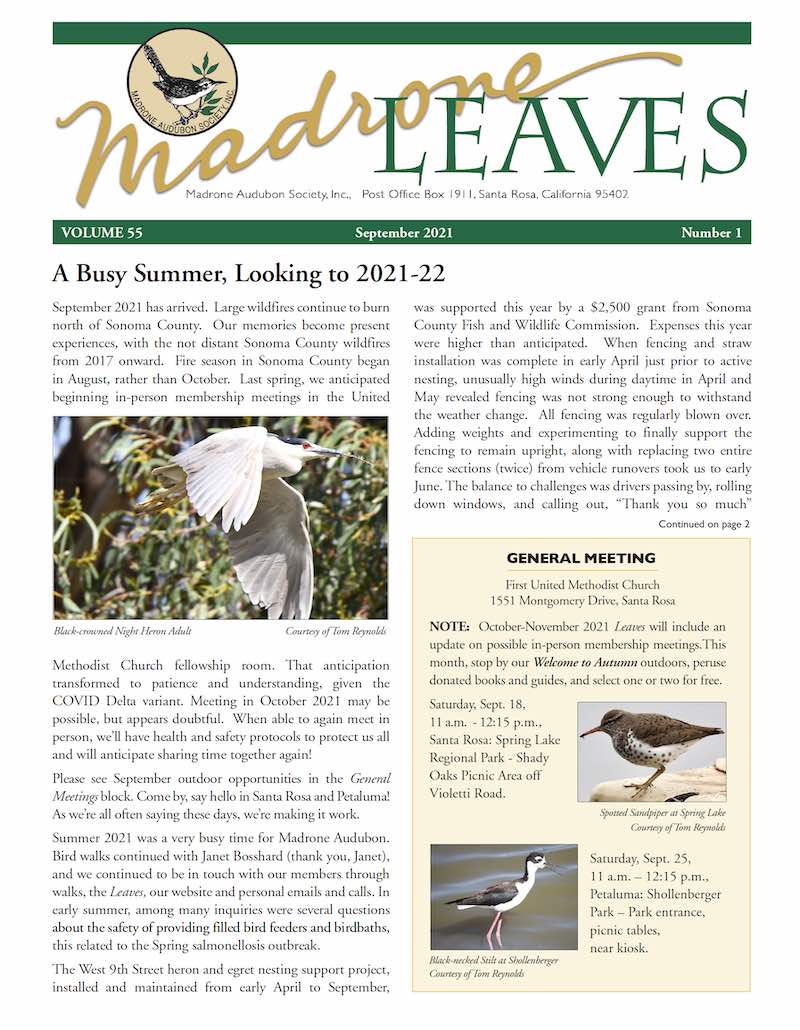 ---
In the 1970s, member Tom Olds hand-carved bird pins and sold them to raise money for Madrone Audubon. More
---