Sonoma County Breeding Bird Atlas, Year Five
To view the KRCB interview of March 11, 2015 click here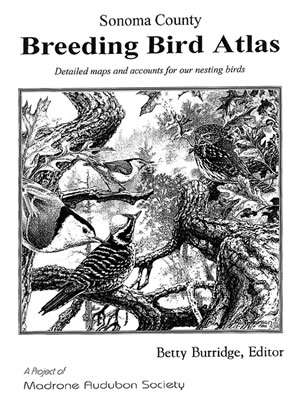 Madrone Audubon Society volunteers are in the fifth year of collecting data for a five-year breeding bird atlas survey of Sonoma County. The first breeding bird atlas survey, compiled in 1995, provided valuable information on which species (out of the 394 species recorded in the county at the time) were breeding: a total of 159 species were found. Almost all of the labor was completed by dedicated volunteers - over 100 birders spent over 4,000 hours in the field collecting the data for this survey, followed by many more hours analyzing the results, editing and producing the final 204 page report. Click here for a pdf copy of the original report [5.5 MB PDF]
(As an example of the possibilities in publishing survey results, you can preview Napa-Solano Audubon's beautiful books, the full edition published in 2014, and a newer, field-friendly guide published in 2015 HERE, or scroll to the end of this page)
An article in the November 2010 issue of Leaves summed up the value of the project:
"The 1995 Breeding Bird Atlas (BBA) proved to be a remarkably useful and important baseline for the status of our birds. Government agencies and companies who were responsible for developing environmental impact statements and reviews warmly welcomed our BBA. Which birds breed in Sonoma County, where and by inference what habitats they use were all included in the Atlas and were of vital importance in establishing a baseline for reference. Contractors and others involved in disturbance of possible breeding habitats have been able to avoid legal challenges and public relations problems by avoiding disruption of active nests through use of the dates of active breeding data included for each bird in the BBA."
So why are we doing another survey? The 2nd Edition of the Atlaser's Handbook states the following: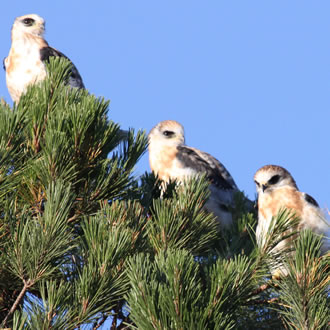 "The atlas will illustrate the breeding distribution of each species. Comparison with historical data will reveal how bird distribution has responded to a century of environmental change. The Atlas will reveal key sites and important populations of species of conservation concern. It will reveal areas of high or low bird diversity, suggesting priorities for conservation. It will serve as the baseline against which future changes in the status of breeding birds can be assessed, and greatly increase our understanding of species abundance and nesting phenology. It should provide the primary scientific reference for applications in public policy, education, recreation and research."
With four years of compiled data, changes are already being observed. New species, such as Bald Eagle, Sora, Peregrine Falcon, Eurasian Collared-Dove and Great-tailed Grackle, have been added to the list of species observed breeding in the county. It is too early to compare results for other species, to see if any trends are appearing - for those, we will have to wait for the completion of the project.
If you are interested in participating, more field work needs to be done, as there are still many areas in the county that have not yet been covered. For more information, please contact Gordon Beebe, the BBA Project Coordinator, at gdbeebe@earthlink.net
To see a map of the atlas, showing both completed and unclaimed blocks, click on the following link: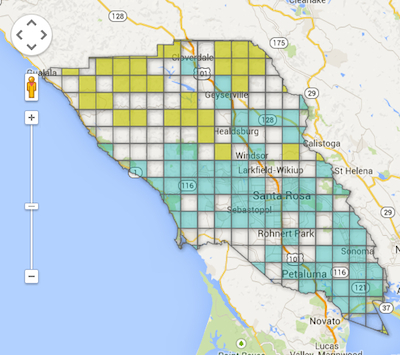 atlas map. The map takes a minute to load at first, then you may zoom in and click on any block to see the status. Blue blocks are complete, yellow are unclaimed.
---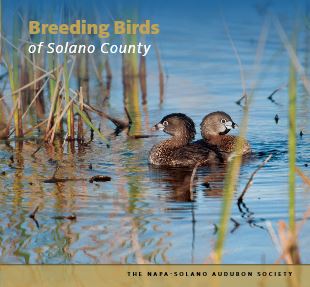 Breeding Birds of Solano County
2014 Edition: This coffee table edition begins with a carefully researched and illustrated section on the geography and habitat types within Solano County. This is followed by a larger section describing all the nesting bird species. One page is dedicated to each species, with a detailed county map showing breeding locations, interpretive text, and beautiful original color photographs by local photographers. Click on the photo at right to go to Napa-Solano's website where you can view sample pages.
---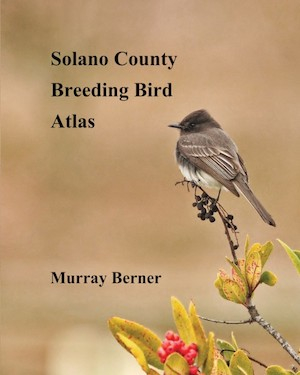 2015 Field Edition: Detailed accounts for all 147 breeding species in the county, describing current and historical distribution, habitat, conservation, and population trends; an introduction to the biogeography of Solano County, and individual maps for every breeding species, by Murray Berner. Dimensions: 8 x 10 inches; 198 pages. Click on the photo at right to go to the Blurb.com website where you can view sample pages.

---
New Items
Habitat Garden Tour March 6, 12pm Visit the NSCC Garden
February is the last month to safely trim trees Nesting Season is coming soon!
New Citizen Science Opportunities!
---
Amazon Smile: donate to Madrone when you shop
Birding Quiz - test your skills.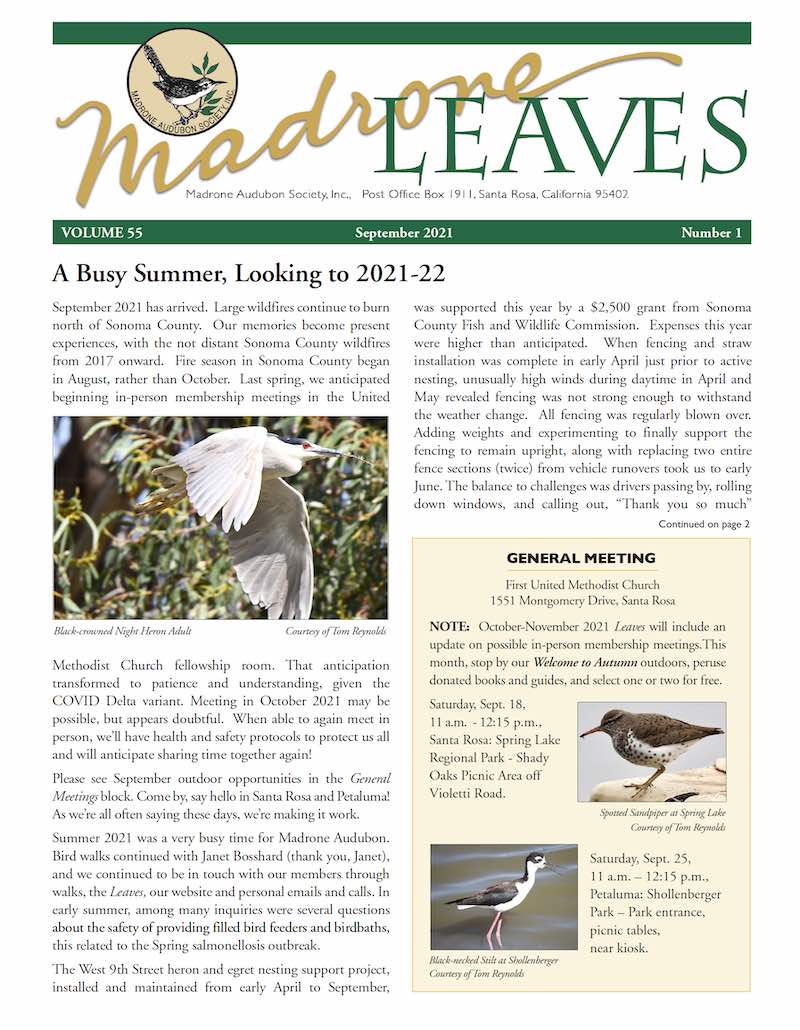 ---
In the 1970s, member Tom Olds hand-carved bird pins and sold them to raise money for Madrone Audubon. More
---