Carved Bird Pins by Tom Olds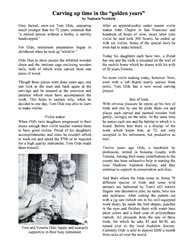 Starting in the early 1970's, Charter Madrone Audubon member Tom Olds began carving and painting bird pins to raise money for the chapter. After his death in 1975, members Nick Givens (carver) and Marge McCulley (painter) continued the tradition. See also carved bird pins by Nick Givens.
For more information on these treasures, please see the lead article in Leaves volume 46, number 5 (April/May 2013).
Click on images to enlarge, then browse forward and back with arrow keys.