West 9th Street Heronry
Visiting the W. 9th Street nesting site
Click here or scroll down for suggestions on how to minimize stress on the nesting birds while viewing them.
2016 Nesting Update
Black-crowned Night Herons, Snowy Egrets, Great Egrets and Cattle Egrets nested at West 9th Street this year. Audubon Canyon Ranch, in the annual documentation process for the North Bay Heron and Egret Project, observed nests daily. General 2016 data from ACR includes: Total of 239-269 nests (decrease compared to 325 total nests in 2015). The 2016 data is comprised of 100 Black-crowned Night Heron nests (in 2015, 174 nests); 74 Great Egret nests (in 2015, 67 nests) and 65 Snowy Egret nests (in 2015, 55 nests). Approximately 20-30 Cattle Egret nests also sustained at the nesting site (in 2015, 29 nests).
Volunteer rescuers of Bird Rescue of Sonoma County dedicated hundreds of hours to monitor the area and rescue young fallen birds. Those that could be stabilized at Bird Rescue were then transported to International Bird Rescue (IBR) in Cordelia, where skilled rehabilitators cared for the egrets and herons until they were ready for release to their wild environment. A dedicated volunteer drove from Sonoma County to Cordelia on designated days and returned to the Laguna de Santa Rosa area where young egrets and herons, each banded at IBR for identification, were then carefully released into their new wild home.
Our Madrone Audubon support project each year for this process includes setting up the enclosed area of padded straw under primary median street trees to help cushion falls and enclose an area where a bird will be discovered by rescuers. This area is maintained, including weekly cleanup and sweeping around the area, from late March to the end of August. We also install Migratory Bird Treaty Act signage at the site, as well as interface with community members, rescuers and others as needed for communication. We provide this support project each year as a coordinating and connecting addition via an encroachment permit from the City of Santa Rosa. In 2016, the City of Santa Rosa also responded to rescuers' concerns and our concerns by installing a speed limit tracking sign on W. 9th St. to identify speeding vehicles, which can be very dangerous for egrets or herons with no time to escape an oncoming speeding vehicle, sometimes striking and killing even adult herons or egrets. This is just one of the behind-the-scenes challenges of an urban nesting area hosting these magnificent birds, the adults of whom select this site and return to nest each year.
The W. 9th Street nesting area is also a focal point of the annual Bird Festival hosted by Madrone Audubon and held each May at nearby Lincoln Elementary School. This is a day-long environmental and wildlife appreciation and education day for Lincoln Elementary students. On behalf of Madrone Audubon, we express gratitude for the continued dedication of the City of Santa Rosa, Audubon Canyon Ranch, Bird Rescue of Sonoma County, International Bird Rescue of Cordelia, Need a Hand Movers (who remove the used straw each year for us, a day-long process), Bay Area Barricade Services (who supply and help us replenish our fencing materials), and the community and residents of West 9th St. who are tolerant of and often very supportive of the large nesting phenomenon, drawing tourists and photographers, in urban Southwest Santa Rosa.
In-depth information and history follow:
Largest nesting site for herons and egrets in Sonoma County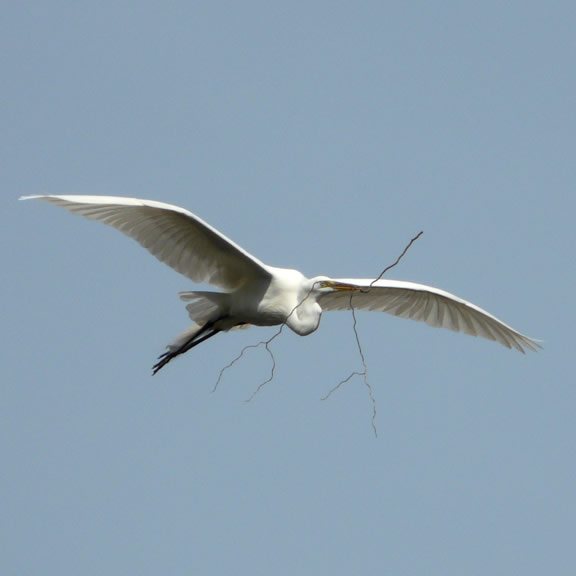 Since the late 1990's, this established nesting site continues to be productive. On W. 9th Street between Link Lane and Stony Point Road in a southwest Santa Rosa neighborhood, two large median eucalyptus street trees and nearby residential tall trees provide nesting habitat for hundreds of birds. The site supports Great Egret, Snowy Egret, Cattle Egret and Black-Crowned Night Heron, with stopover visits by Great Blue Heron and others. In close proximity to Lincoln Elementary School on W. 9th St., Madrone Audubon's annual Bird Festival in early May celebrates the nesting experience and environmental education.
In 2013, Madrone began a nesting support project for the rescue volunteers of Santa Rosa Bird Rescue and International Bird Rescue in Cordelia. Rice straw mats with flexible security fencing were placed in an oval 180' long under the street trees. The mats helped cushion falling chicks and provide an enclosed area to facilitate quicker rescue. The City of Santa Rosa also installed caution signage for the nesting area in 2013 and helped with release locations along the Laguna de Santa Rosa (the nesting birds use nearby Santa Rosa Creek as a pathway to their feeding grounds at the Laguna). Jay Holcomb of International Bird Rescue banded each bird that was rehabilitated and healthy enough for release. Over 125 birds were released at the Laguna in 2013. Audubon Canyon Ranch monitors and produces a census of nests and production for the North Bay Heron and Egret Project, headquartered at Cypress Grove on Tomales Bay.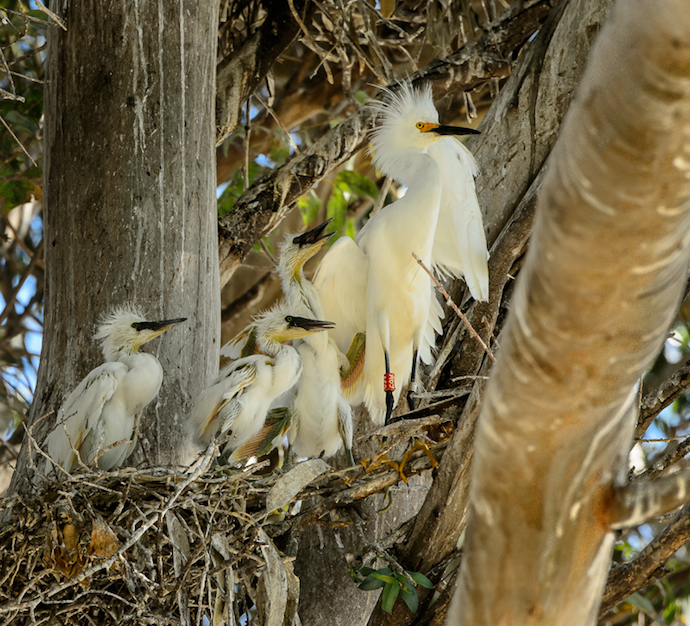 A success story: #A69 Snowy Egret banded at IRB, then released, photographed at the West 9th colony in Santa Rosa by Neil and Susan Silverman.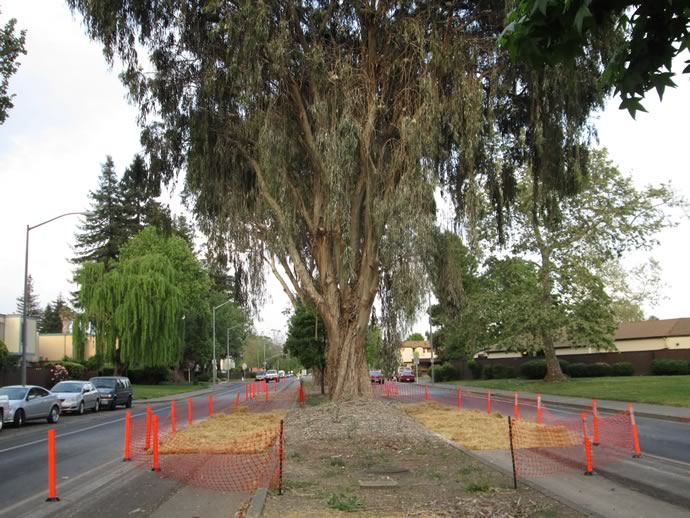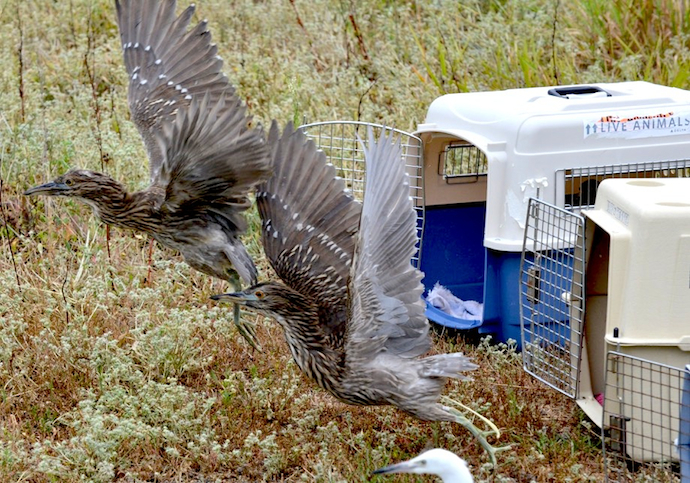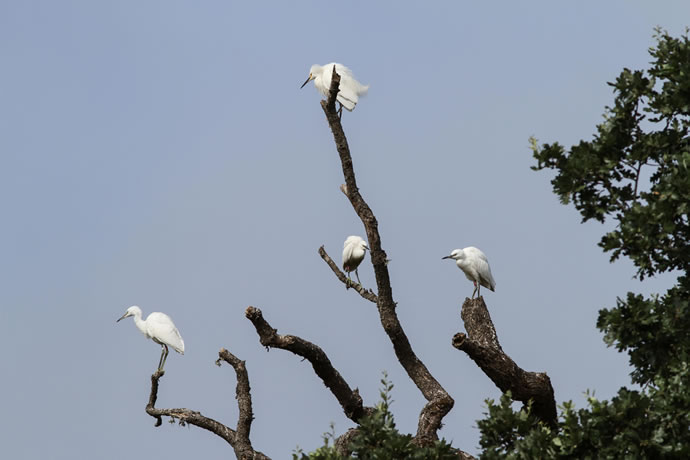 Conduct when visiting the W. 9th Street nesting site
It is a wonderful experience seeing the egrets and herons build their nests and raise their young, all within easy access by car. Do please consider the following when visiting the nesting site. If possible, park at least one block away from the nests, and stay on the sidewalks on either side of the street to view the nests. Do not approach or stand in the median. Please be aware nests are also in tall trees on private property on either side of W. 9th Street in this immediate area. Use a quiet voice when talking with others. This will help to minimize any stress on the birds as they raise their young.

---
New Items
Important Info for Jan. 1 CBC Team Leaders here.
August 23, 2017: Congressman Huffman forum on Marine Sanctuaries
New Citizen Science Opportunities!
---
It's Nesting Season: trim trees in the Fall!.
Amazon Smile: donate to Madrone when you shop
---
Birding Quiz - test your skills.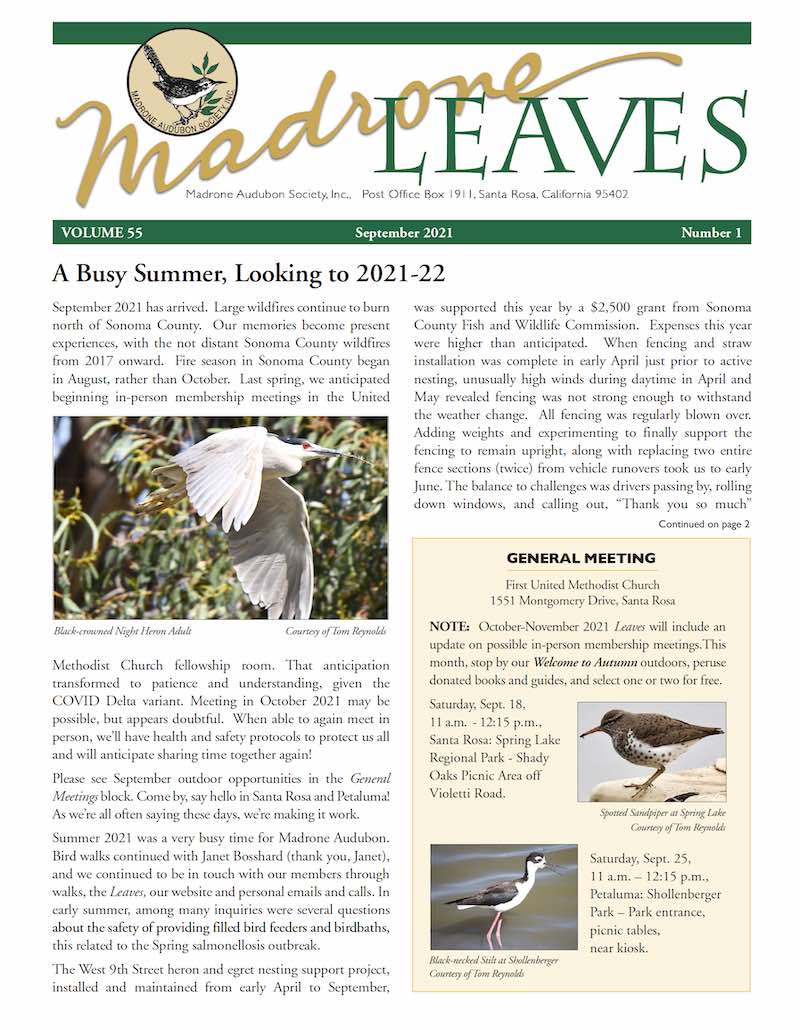 ---
In the 1970s, member Tom Olds hand-carved bird pins and sold them to raise money for Madrone Audubon. More
---